Mechanical Design & Analysis
Mechanical Design & Analysis is an every-growing part of our business with our skills principally being used in the transport industry. However, our depth of mechanical engineering knowledge is just as applicable in other key areas such as construction and defence projects.
Our collaborative approach to projects allows us draw on skills from across the team, our suppliers and our customers, in developing structural safety cases or considering how human factors affect our designs.
With a full suite of mechanical circuit and electrical design and analysis tools on hand, including an extensive code library for real-time load reconstruction, we supply a range of engineering design and analysis expertise, including 3D modelling.
Other areas our team covers include:
Finite element analysis (FEA), including advanced non-linear, thermal and dynamic analysis
Fatigue and damage tolerance analysis of machines and structures
Computational Fluid Dynamics (CFD) and Thermal Analysis
3D modelling & simulation
Certification of structures
EngAnalysis use a data driven approach to mechanical design and analysis, utilising field measurements to establish operational load cases and constraints to the model, minimising the number of assumptions and unknowns. The complimentary skill sets within the team of field testing, computational modelling and design allows for a full-service approach to mechanical design and analysis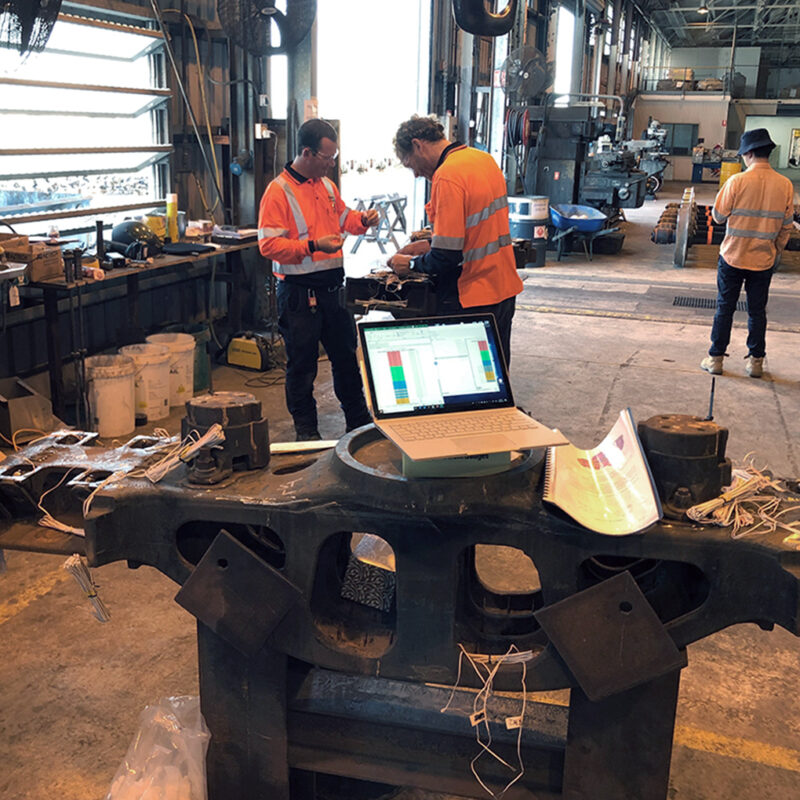 Failure Analysis & Investigation
EngAnalysis identifies the extent and cause of problems and recommends effective solutions based on in-depth analysis and investigation. By investigating the root cause with the use of early fault detection, real-time monitoring and data visualisation, we provide a comprehensive failure analysis, allowing us to recommend optimal, evidence-based solutions that will meet project objectives.
Over the years, we have had extensive experience in engineering investigations, covering areas including:
Real-time monitoring of crack growth
Cast, fabricated and forged component failure analysis and investigation
Fatigue cracking investigation and repair/modification development
Determination of inspection regimes for structures subject to fatigue damage
Investigation into root cause of excessive or unusual component wear
Contribution of track conditions to rail vehicle and component fatigue life
Failure Modes & Effects Analysis
Specialised System Development
While the majority of the services and solutions we provide are bespoke, for truly 'out of the box' unique problems or assistance needed in developing a product solution, our team excels. With such a wide range of experience and education, our team's power of innovation and comprehensive problem solving is unparalleled. 
It is not uncommon for our services and team members to be called upon by our industry peers, to collaborate or in an advisory capacity. By assisting in a wide variety of specialised system development, we grow our own knowledge base and expand our capabilities through the experience of others.
Covering inhouse expertise from electronics and firmware, through mechanical and structural to cloud database, PLC and SCADA integration we have all aspects of product development covered. Such examples include: 
Wagon structural monitoring: custom electronics and software designed and deployed on a fleet of vehicles to monitor for structural damage

Machinery fatigue monitoring – Full DAQ and analysis system design, real-time load case reconstruction and fatigue analysis

Custom fibre optic displacement sensors for underwater deployment
Our team is well equipped to manage projects through all project lifecycle stages from concept to closeout.